How the OMJ Readiness Seal Can Brighten a Student's Future
ALL ALLIES IN A STUDENT'S ORBIT CAN HELP PREPARE THEM FOR THE NEXT PHASE OF THEIR LIVES
Contributed by Julie Lanigan, Coordinator, Educational Services
I want you to think of a high school student you know. Think of someone who has skills that might not be fully captured by grades on a report card  ̶  skills like creativity, discipline and reliability. Perhaps this student has excellent grades. Or, perhaps they struggle with academics, but show up on time, with the right materials and a positive attitude. This student is a pleasure to work with and makes meaningful contributions to their community. Do you have someone in mind?
Now, imagine you had the ability to help shape that young person's future for the better by letting colleges and potential employers know just how amazing they are. Luckily, there is a way to do that! Enter, the OhioMeansJobs Readiness Seal, which is printed directly on a student's diploma. The OMJ Readiness Seal is a way for students to earn recognition by demonstrating they are ready to contribute to the workplace and their communities. Before we dive into the specifics of this distinction, let's take a step back and look at the bigger picture for graduating students in Ohio, and how this seals fits in.
Ohio Graduation Requirements
Transition-age students have many options available to them. All the allies in their orbit – teachers, parents, supervisors, mentors, etc. – can play a role in providing guidance for the next phase of their lives. This role is especially important since Ohio law has broadened the options students have for achieving their diploma.
There are new graduation requirements, which phase in over time. Until the class of 2023 and beyond, students can choose several avenues to earn a diploma (See figure 1.). Students in the class of 2023, who entered ninth grade after July 1, 2019, however, are required to meet the new requirements, known as the "permanent requirements." The OMJ Readiness Seal is just one small component of many that can help them meet these requirements. For more details about what options are available for each graduating class, and what requirements must be met for each option, visit the Ohio Department of Education website.
Figure 1
Overview of Graduation Requirements by Graduating Class
| Class of 2020 | Classes of 2021 & 2022 | Classes of 2023 and Beyond |
| --- | --- | --- |
| Three Pathways | Three Pathways | Permanent Requirements |
| OR | OR | |
| Modified Additional Graduation Options | Permanent Requirements | |
| OR | | |
| Permanent Requirements | | |
Source: Ohio Department of Education, Overview of Graduation Requirements by Graduating Class.
Permanent Requirements
All students in the class of 2023 and beyond will have to meet the new "permanent requirements," which require that several conditions be met.
Cover the basics. Students must earn a minimum of 20 credits in specified subjects and take required tests. Students must also receive instruction in economics and financial literacy and complete at least two semesters of fine arts.
Show Competency. Students must achieve a passing score on Ohio's high school Algebra I and English II tests. (For students who may struggle with testing, there are a few other options, as well.)
Show Readiness. Students must earn two "diploma seals" that line up with their goals and interests. There are 12 different seals, which provide students several options to demonstrate their preparedness for their post-high school journey.
This "readiness" requirement is also where the OhioMeansJobs Readiness Seal comes in. Now, as you read on, picture your student again and see if it makes sense to recommend pursuing this seal to them.
OMJ Readiness Seal Requirements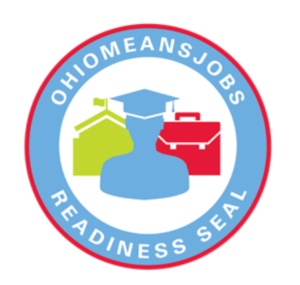 Students who earn the OMJ Readiness seal must complete these three steps:
Demonstrate proficiency in 15 identified professional skills. (See Figure 2.)
Record demonstrated professional skills using the OhioMeansJobs Seal Form, in at least two environments, such as school, work or the community.
Have each skill validated by at least one mentor who supervised the student. At least three mentors must be involved in the overall skill validation process and they must all sign the form.
Figure 2
Professional Skills
| | | |
| --- | --- | --- |
| Drug free | Teamwork/Collaboration | Creativity/Innovation |
| Reliability | Professionalism | Oral & Written Communications |
| Work Ethic | Learning Agility | Digital Technology |
| Punctuality | Critical Thinking/Problem Solving | Global/Intercultural Fluency |
| Discipline | Leadership | Career Management |
Source: Ohio's Graduation Requirements: Long-term Requirements 2023 and Beyond.
Helping Students Meet OMJ Readiness Seal Requirements
If a student is capable of and would benefit from earning this seal, there are steps you can take to help them reach this achievement.
Think of strengths and passions as post-secondary transition options are considered.
Explore OhioMeansJobs.com or download the OMJ App to identify career interests, search occupations and job openings.
Familiarize yourself with the 15 identified skills and rubric to evaluate which skills a student may have already mastered and which skills may need to be further developed.
Consider potential mentors from school, a work environment or in the community that may be able to certify that a student has met one of the OMJ required skills.
Be an active participant of the IEP and district teams to determine which pathway is best.
Now, one last time, picture your student walking across the stage to pick up their diploma. Their joy is undeniable. You are bursting with pride and hopeful for their future. Give yourself a pat on the back. You played an important role in preparing them for the next phase in their life. The OMJ Readiness Seal on their diploma will translate to actual opportunities that they may not have otherwise had.
More Information
For more information or questions about graduation pathways or the OMJ Readiness Seal, contact Julie Lanigan, educational services coordinator, via email.