The Opportunity to Play: Step One on the "Competence Makes a Difference" Journey
FOR MANY OF THEM, MENTAL HEALTH STRUGGLES OR BEHAVIORAL CHALLENGES HAVE MADE PARTICIPATION IN A TYPICAL SCHOOL SETTING UNREALISTIC.
Contributed by David Weiss, occupational therapist, PEP Prentiss
"Mr. Weiss, I am SO PROUD OF MYSELF!" DeShawn* exclaimed to me out of nowhere. We were kneeling on the grass on the infield at Jesse Owens stadium at The Ohio State University, looking up into the stands at thousands of spectators.  It was the opening ceremonies of the Special Olympics Ohio Summer Games and DeShawn was competing in track events that weekend.
I felt tears forming in my eyes as I thought about what DeShawn had been like when he began his time at PEP several years before. He was shy and unsure. He often refused to participate in activities. "I'm too tired," he would say, his fear of failure more evident than he realized. At times, if a staff person urged him to participate, maladaptive behaviors followed.
We knew he loved sports, but we also knew he had a history of trauma that held him back.
Re-ED's "Competence Makes a Difference" Builds Confidence
And that got us to thinking about Re-ED. At PEP, since our founding 50 years ago, we have embraced Dr. Nicholas Hobbs' Re-ED principles. These 12-seemingly simple principles are standards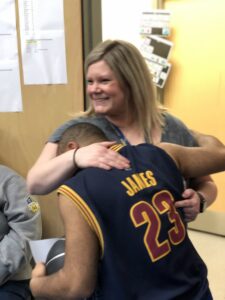 for working with children who have significant challenges. Though they were developed decades ago, these standards seem to become more relevant over time. They are in lockstep with other, more recent study and knowledge regarding childhood development, emotional regulation, and healing from trauma. It was our adherence to these principles, and perhaps particularly to the fourth one, "competence makes a difference," that helped DeShawn cope with the fears that were holding him back.
Carefully, and in a trauma-sensitive way, we introduced DeShawn to sports at PEP Prentiss. With practice he excelled. He became a PEP Prentiss athletic standout, participating in the Special Olympics, basketball skills competition, a walking/running marathon program, and our flag football game. This one-time shy student and his father were even featured on a Cleveland Fox 8 News piece about the PEP Prentiss football game. When the newscaster asked what he thought about the football game, he confidently enthused, "Awesome, man! Awesome!" His dad called it, "one of the highlights of the school year for him."
From that moment on, DeShawn's confidence oozed. He was more engaged in other school activities, and his newfound faith in himself enhanced his learning. DeShawn's experience was a perfect example of Re-ED's "competence makes a difference."
The Opportunity to Play
DeShawn's transformation wasn't something new at PEP. We've seen this kind of thing before. PEP has a special way of providing opportunities to kids that they might not otherwise have. For many of them, mental health struggles or behavioral challenges have made participation in a typical school setting unrealistic. Like the PEP Prentiss football game and the Special Olympics that propelled DeShawn to new heights, PEP staff often create activities and special events that allow kids to explore their interests outside the classroom walls.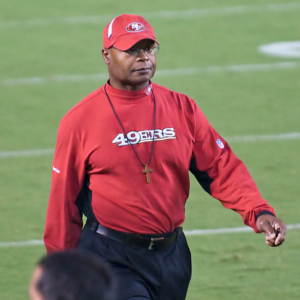 Mike Singletary, an NFL Chicago Bears Pro Football Hall of Fame Linebacker and Super Bowl Champion once said, "Do you know what my favorite part of the game is? The opportunity to play." For DeShawn and so many other kids at PEP, the "opportunity to play" is a critical part of the Re-EDucation journey. One might never know for instance, that they have an aptitude for chess, a beautiful singing voice, or an uncanny ability to make 3-pointers, if they aren't given the chance to explore their interests in a safe space.
At PEP we're proud to have helped so many kids recognize their talents by providing that "opportunity to play." It's amazing to watch a child's transformation when they begin to believe they are good at something. In those moments you know deep down that competence really does make a difference. It can be life changing, just like it was for DeShawn.
*Not his real name