PEP Center to be Renamed in Honor of 20th Century Black Clevelander
Positive Education Program owns and operates a building located at 9700 Lamont Avenue. Through research, we learned that this building, which was once known as Charles Orr Elementary School, sits on the land where civil rights legend Charles Waddell Chesnutt once lived.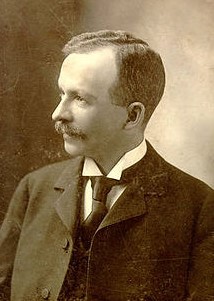 Charles Waddell Chesnutt, a prominent 20th century Black Clevelander, has been called "The pioneer of the color line" and was an author, crusader for social justice, humanitarian, and his work served as a precursor to the Harlem Renaissance. In 1899 he was the first person of acknowledged African descent to be published by an established publisher of the day.
Next year, PEP is merging two of its centers – PEP Greenview and PEP Eastwood. This merged center needed a new name. We saw this as an opportunity lift up important Cleveland history, and we are excited to share that this merged center will be known as PEP Chesnutt in the coming school year.
Making this recognition all the more fitting, we learned that Charles Chesnutt was also a school teacher and a principal, before becoming a lawyer and passing the Ohio Bar in 1887 with the highest score. He operated a successful court reporting business, published six books, and championed the cause of equal rights for all people without regard to caste or color.
In 1928, Chesnutt was awarded the prestigious Spingarn Medal by the National Association for the Advancement of Colored People – an honor he shares with the likes of George Washington Carver, Mary McLeod Bethune, Rev. Dr. Martin Luther King Jr., Langton Hughes, Rosa Parks, Oprah Winfrey and Congressman John Lewis.
PEP is proud to celebrate the legacy of this influential early northeast Ohioan and help lift the stories of Black history in our region. It is meaningful and important to be able to help our students deepen their appreciation for the critical role people of color have played in our city's evolution and honored to occupy space that once was home to such a notable individual.
Learn more about Chesnutt's impressive story here.
Learn more about PEP Chesnutt here.