PEP Lifts Black Voices for Black History Month
Black History Month is special at Positive Education Program. Although we believe it is important to study Black history every month, Black History Month helps us be even more intentional in shining a light on our Black heroes. Many classrooms have their own programs, decorations, and projects. In addition, special projects throughout the organization bring the community together and lift Black voices.
Below is a roundup of just some of these special projects from 2021.
PEP Greenview Poetry Slam
PEP Greenview celebrated Black History Month with a poetry slam — an interactive form of performance poetry, in which people recite their poetry and audience members enthusiastically engage with the person performing. Spectators often call out words of encouragement or praise. PEP Greenview's poetry slam included a poem with lines contributed from students and staff beforehand. The lines were inspired by three prompts:
Racism is like…
When you see me…
Black joy…
The beautiful and moving poem, entitled Racism is Like a Dying Flower, is a product of the entire community's efforts and demonstrates the power of coming together but also reveals just how deeply students understand and experience the pain of racism and the joy of belonging to a community.
See Devon Fegen-Herdman, PEP Greenview's art associate teacher counselor who organized the project, read the poem aloud.
PEP Prentiss Creates Collaborative Murals
Megan Weiss, associate teacher counselor and Erick Curry, classroom associate spearheaded an art project for students and staff highlighting famous Black heroes. Students colored segments of pages that were marked off ahead of time, which were then assembled into large, colorful murals of Dr. Martin Luther King Jr., Barack Obama, Booker T. Washington, Ruby Bridges and Rosa Parks. See the final masterpieces in the slideshow below.
Hundreds of Pictures Used to Create Artwork at PEP Phoenix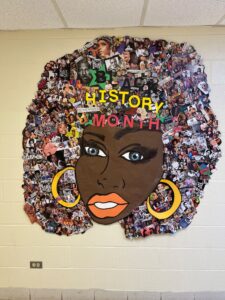 For Black History Month at PEP Phoenix, several staff members and students created an art project displayed outside the main office. The image of a Black women was created using hundreds of smaller pictures from magazines and other media. Surrounding the display were additional images of figures from Black history. Each day, a student read a brief biography of one of these figures on the afternoon announcements.
Velva Gaston, behavior support specialist, and Nicole Bell, associate teacher counselor, spearheaded the project at PEP Phoenix. Jeannie Oakar, art associate teacher counselor, led the execution of the art project.
PEP Connections Compiles Dozens of Learning Opportunities
PEP Connections' Racial Equity, Justice and Inclusion Committee worked together to compile dozens of virtual opportunities for staff, kids, and families to learn more about Black history. Events ranged from local discussions on racism to virtual tours of museums in cities across the country and covered everything from social-justice issues, to art, to sports. Many events were held live, while others were available on demand.
PEP Early Childhood Plus Sponsors Black History Month Contest
Central Office employees were invited to enter a Black History Month contest sponsored by PEP Early Childhood Plus. Participants were asked to submit a PowerPoint presentation on a figure from Black history, with extra points awarded for presentations highlighting a less-well known individual who had an impact on social justice.