PEP Early Childhood Plus Consultants Tout Re-ED Principles
PEP Early Childhood Plus Consultants Traci Dickerson and Gina Niro recently sat down to talk about their favorite Re-ED principles and how the ideas behind PEP's foundational philosophy influence their work. Re-ED is a systematic approach to working with children who have mental and behavioral issues. It builds upon the existing strengths of a child and is often described using its 12 principles. (See the list below.)
The Principles at Work
Dickerson and Niro say the principles play into their work every day. For Dickerson, "trust is essential" immediately comes to mind when she thinks about the role of Re-ED in her job. She works with young children and their families and must first establish trust before the "real work" can begin.
"Communities are important" resonates most with Niro, who works with young children in school districts. She spends a lot of time building a support network around a child that includes families, teachers, districts and other community organizations.
My Favorite Re-ED Principle
See Dickerson and Niro's full conversation about Re-ED principles here.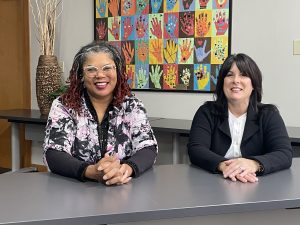 Re-ED Principles
Life is to be lived now.
Trust between the child and adult is essential.
Time is an ally.
Competence makes a difference.
Self-control can be taught.
Intelligence can be taught.
Feelings should be nurtured.
The group is very important.
Ceremony and ritual give order.
The body is the armature of the self.
Communities are important.
A child should know some joy in each day.
Learn More
To learn more about PEP Early Childhood Plus or the other programs at Positive Education Program, visit our website. Download a printable flyer of the 12 Re-ED principles here.